Since 2017, we've been operating under the name NirgiWabrik. It all started as my little knitting hobby, but upon friends' insistence, NirgiWabrik was born. The name was inspired by my maiden name "Nirk" and my passion for knitting, which felt like a factory in full swing. Today, NirgiWabrik has become close to my heart, more than just a hobby. We've grown and expanded, shifting the focus from hats to garments, with employees, resellers, and loyal customers. Eventually, we realized we've outgrown NirgiWabrik and it's time to move forward.
Introducing our new brand, "ÄRNI BLUM"!
Ärni Blum was my dear grandfather's name before it was Estonianized. He was an incredibly stylish and kind-hearted man, wearing a cap and a red bowtie, clad in a velvet indigo suit, an art-loving gentleman who valued creativity, craftsmanship, details, quality, beauty, and timeless elegance. I always felt a deep connection with my grandfather, and I've inherited much from him. Moreover, my love for handicrafts comes from my great-grandmother, who worked as a handicraft teacher at a home economics school. Additionally, I found my grandfather's original name so fascinating that I used "Ärni Blum" as a pseudonym during art classes as a child. Thus, the perfect name for my renewed brand revealed itself: ÄRNI BLUM?
PRODUCTS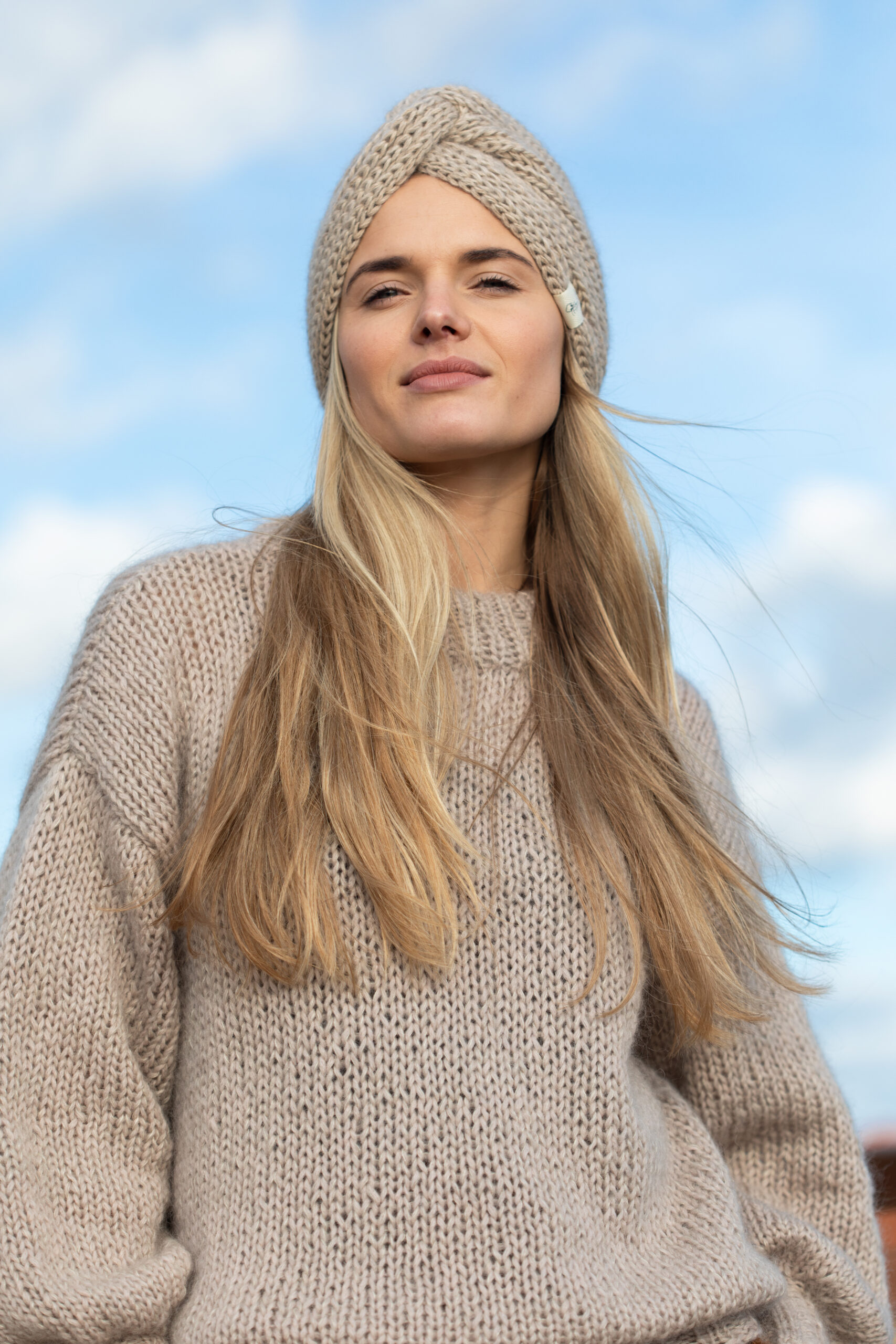 Our knits are crafted with care and love by skilled women of Saaremaa, mostly made to order. This might make the wait a bit longer, but it surely adds uniqueness to each piece. Our creations are hand-knitted on needles and also produced on hobbyist-friendly hand knitting machines. We knit our designs directly to size, following a zero-waste principle.
Sustainability is a top priority for us, using only organic and certified materials. Quality, luxury, intricate details, timeless classics, and above all, comfort, are our guiding principles in designing our knits. Experience the perfect blend of style, comfort, conscious fashion, and a better tomorrow!
The turban is a favorite
"Pean veel kiitma, et lisaks mütsidele ja peapaeltele (ja neid on kasutuses juba õige mitu ja erinevat mudelit), on Nirgiwabriku turban tõeline lemmik ning pilgupüüdja ja hitt. Aitäh, et mu pead soojendate ja uute tellimusteni! "
Feedback
"Müts käes ja rõõm hinges! Mul on üle kümne aasta jälle talvemüts! Kenas pakendis, armsate soovide ja õpetustega. Imeline!"
Nii nii suur aitäh Sulle!
"Sain paki kätte ja nohhhhhh lihtsalt imeline! Ja mis armas kingitus. Teed nii kvaliteetset ja imeilusat naiselikku paid. Just saatsin jõuluvanale ka oma soovi valgele Jasminile. Kõik on lihtsalt nii ilus ja imeline värvivalik :)"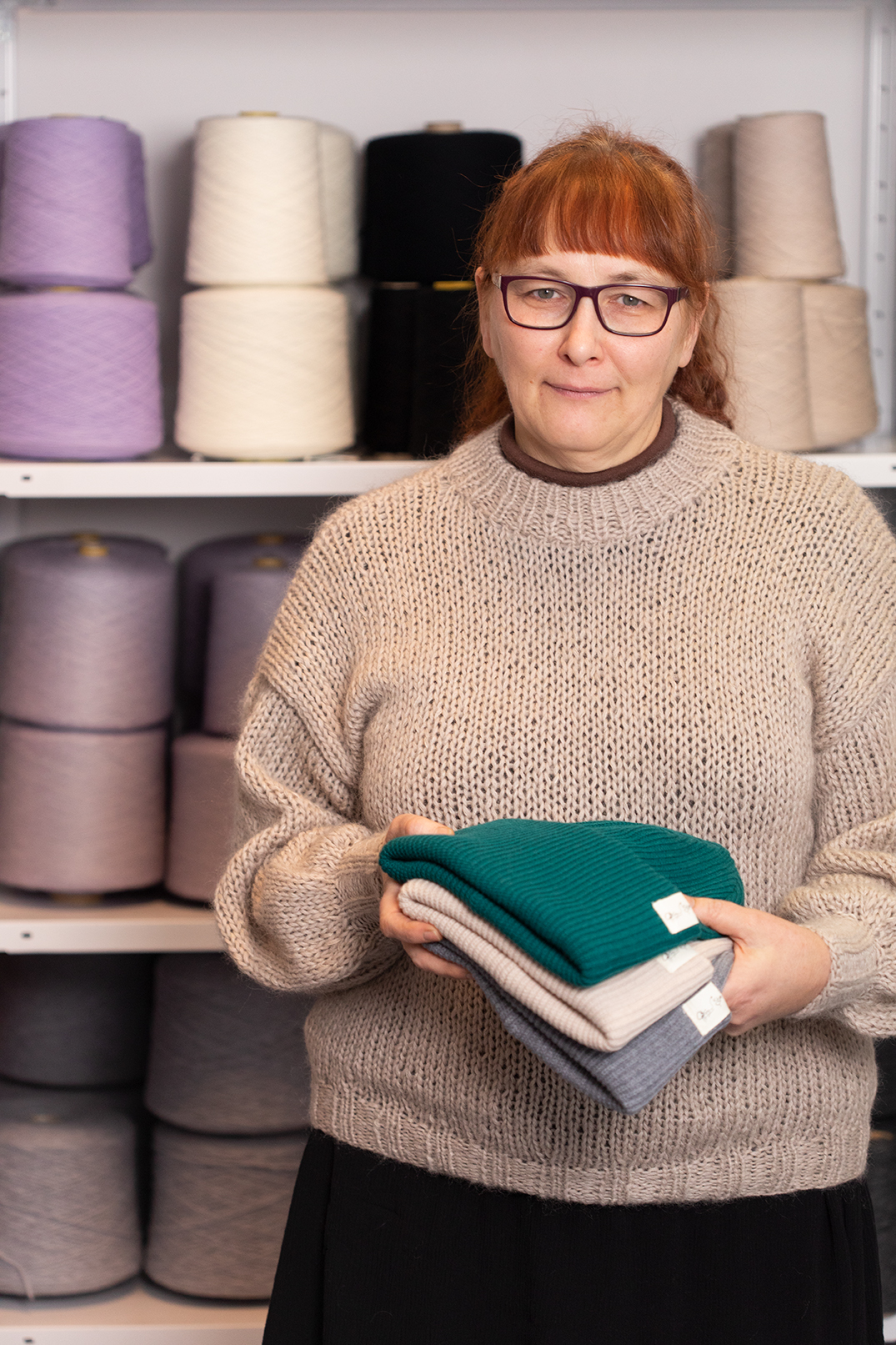 Liia
Thanks to LIIA's attention to detail and extensive experience, I can confidently say that Ärni Blum knits are the masterclass in craftsmanship and quality. Her profound dedication and out-of-the-box thinking serve as a great inspiration for all of us at Ärni Blum. During her free time, Liia enjoys reading books and taking long walks in nature. However, her favorite pastime is undoubtedly gardening. She has three children and confirms that raising them has been one of the greatest joys in her life.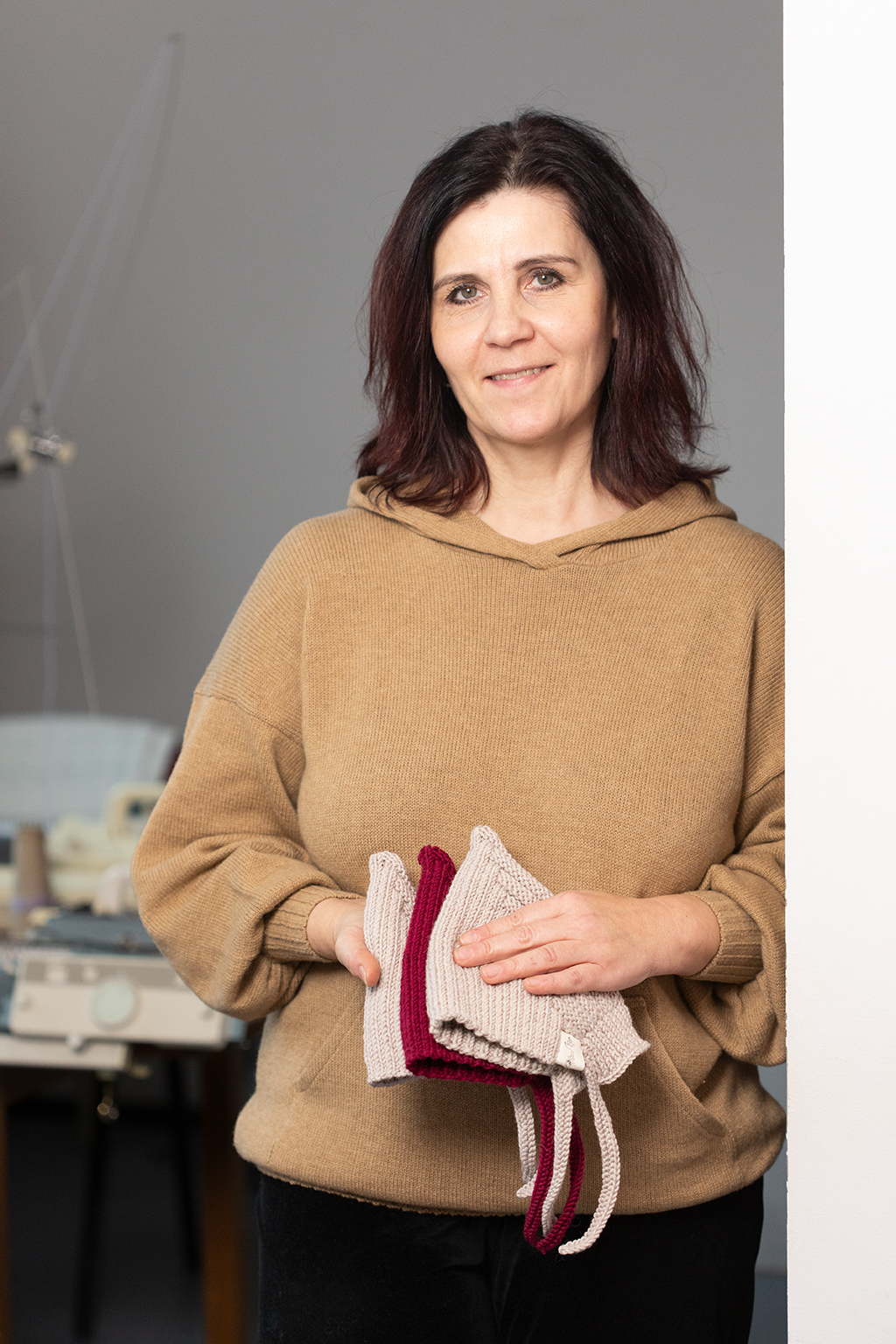 Jana
JANA's keen eye and desire for perfection make her the 'Quality Control' of Ärni Blum, ensuring that every detail is absolutely right. Together with JANA we brainstorm the patterns, sizes and all of the technical aspects of Ärni Blum knits. She is the heart of Ärni Blum, , who helps me to turn my ideas to an actual knits! Outside work, JANA enjoys spending time with her children and grandchildren, and bakes the most delicious rye bread.

Zero-Cost Production
All our products are handmade or hand-knitted to order, minimizing yarn usage and therefore helping us to follow zero waste production. In the rare cases where some leftovers occur, we creatively incorporate them into other products or special projects.

HIGH-QUALITY ETHICALLY PRODUCED YARNS
We source our yarns very carefully from certified and trusted producers. Quality and durability are paramount to us. Our yarns mainly originate from Italy and Japan.

THE MAJORITY OF THE YARNS WE USE ARE BIODEGRADABLE

We primarily use 100% natural and biodegradable yarns. Learn more about each yarn HERE.